Hollis Innovations, LLC began as Wdwic Networks on January 18th, 1999. On December 24th, 2007, we changed our name to Hollis Innovations to reflect our innovative ventures.
We have developed a lot of unique content through the years and have seen it delivered to millions by other parties through a variety of mediums, such as the web, in print and on television.
Much of our focus is on developing web based software. We have spent many years working on a wide variety of ventures involving entertainment, e-commerce, communication, search and educational applications for use not only on our own sites, but for other organizations as well.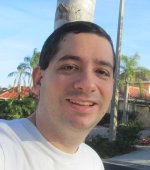 Christopher Hollis
Our most visited web property is
Tropical Atlantic
. This site is designed for weather hobbyists and professionals looking for hurricane related content in the Atlantic basin. This site generates content for television media. This is our most publicly available project, combining many years of software development.
For over a decade, Hollis Pictures provided its pictures and animation in online greetings and screensavers. As part of a restructuring in 2012, Hollis Greetings and the screensaver section at Hollis Pictures were closed on October 6th, 2012. Unfortunately, there was not enough time to update these sites as often as we would have liked.
Hollis Innovations, LLC is based in Tampa, Florida. Christopher Hollis serves as the sole managing member.